A South Australian Family Owned Business
Elder Fine Art Galleries originally opened in Melbourne Street North Adelaide in 1965. The Proprietors Jim and Helen Elder then traded as J.G.Elder upholstery. In 1968 they moved to new premises at 58 Jerningham St, North Adelaide and concentrated on Fine Antiques and Australian Paintings, importing regular shipments of fine quality antiques from around the world.
In 1971 they were involved with one of the largest shipments of antiques to be brought to Australia at that time. These items purchased from The Maharaja of Mysore (India) were a milestone event in the history of Antique Auctions when sold by then family owned business Leonard Joel in Melbourne.
In 1982 Jim Elder finished his three year project of a specially appointed gallery in Melbourne Street and began trading as Elder Fine Art Galleries. The gallery was a major development, and was considered one of the most elegant private galleries to be built in Australia.
Elder Fine Art began promoting established and new up and coming artists, boasting some 20 exhibitions a year around Australia, being responsible in helping promote many important Australian artists that are house hold names today, such as Pro Hart, Hugh Sawrey, David Boyd and Jack Absalom, just to name a few.
In 2001 Jim and Helen's son Justin, joined the family business and began working closely with his parents in the fine art industry. In 2002 the company moved into the direction of running specialised Art & Antique auctions, filling a void in South Australia for Australian & International Paintings. The firm took over the premises adjacent to the gallery at 110 Melbourne street and turned it into their special purpose auction rooms.
Today Jim, Helen and Justin Elder operate Elder Fine Art, specialising in quality Auctions of Australian & International Art and Fine Antiques. Elder Fine Art strives for excellence in its field, aiming to meet its client's needs, and offering a family oriented service to the fine art industry.
The Melbourne Street Gallery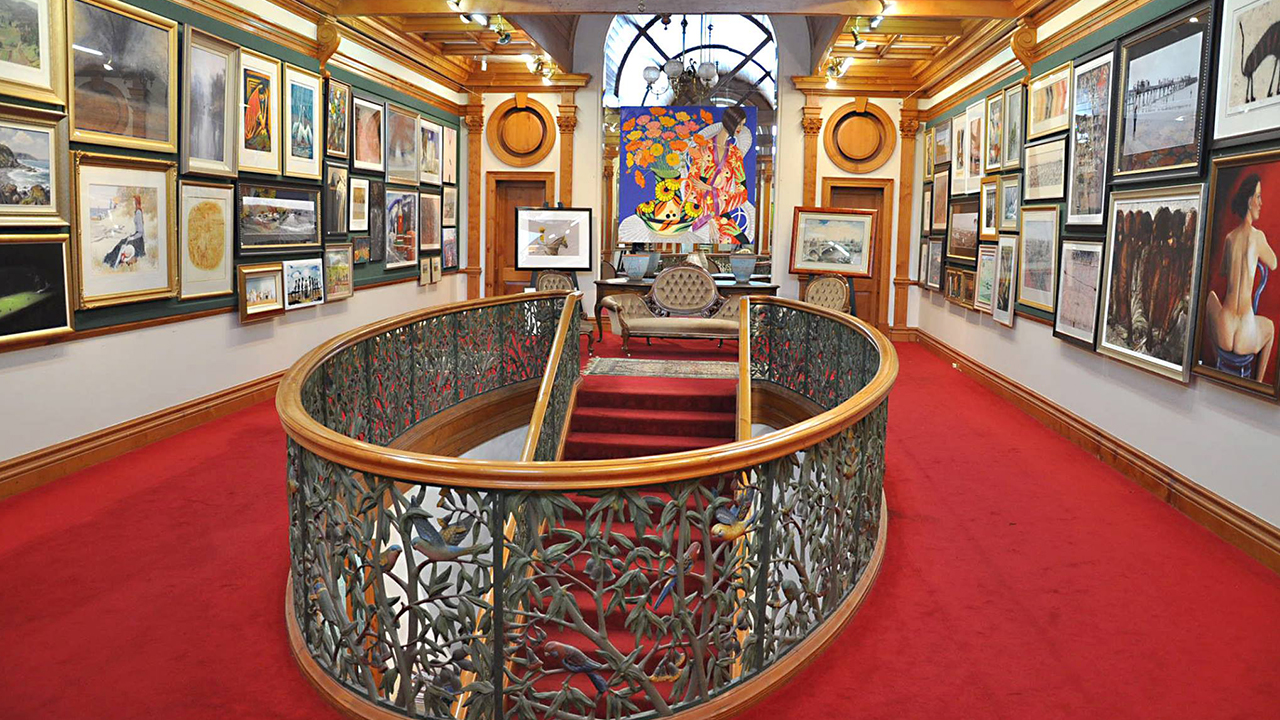 In 1979 Jim Elder began a three year project of a specially appointed gallery in Melbourne Street, North Adelaide while still trading as J.G.Elder Antiques in Jerningham street.
The gallery was superbly constructed in the traditional manner featuring a Victorian blue stone facade and the extensive use of Huon pine throughout its interior. The gallery interior is based on traditional English Architecture but with a subtle Australian Influence.
One of the finest and most talked about features of then gallery is its centre sweeping stair case, featuring a hand painted and decorated pierced balustrade of Australian Wildlife and gum leaves. A staircase that is commonly talked about and referred to by its clients and the public.
The Gallery was completed in 1982 and was officially opened by Kim Bonython at Elder Fine Art's first exhibition of Australian paintings. The gallery was a major development at the time, and is considered one of the most elegant private galleries in Australia.